 Helping Minds is a global provider of digital mental health solutions focused on Anxiety and OCD related disorders. Our programs offer organizations a smart, measurable, and modern way to treat members, increase access to mental healthcare and lower the cost of care with digital programs, interactive tools, content, and support.
Digital interventions
Our DTx builder allows for creation of digital therapeutics without writing code. Our digital interventions catalogue allows clinicians to build bespoke flows for clients to answer their unique needs.
Therapist network
We utilize hybrid digital therapeutics and clinicians are at the center of our solution. Manage provider network, optimize provider utilization and empower clinicians with state-of-the-art dashboard and tools.
Community & family
We believe in community-driven and family-based models. Community elements include online support groups, psychoeducational webinars and events, peer support and online discussion boards. Family members are part of the therapeutic process and take an active role in treatment.
Coming soon: Psychiatry
We want to provide continuum of care for clients who require psychiatric medication. Our platform will support onboarding psychiatrists as providers and will include medication management modules for clients.
Coming soon: Devices
Use dedicated wearable devices & standard smart watches for behavioral tracking and self-monitoring; Utilize XR devices for exposure therapy; Integrate with smartphones and utilize digital phenotyping.
Private, Professional
Counseling
One-on-one support from a personal therapist for individualized care. Each case is unique, and treatment should be, too.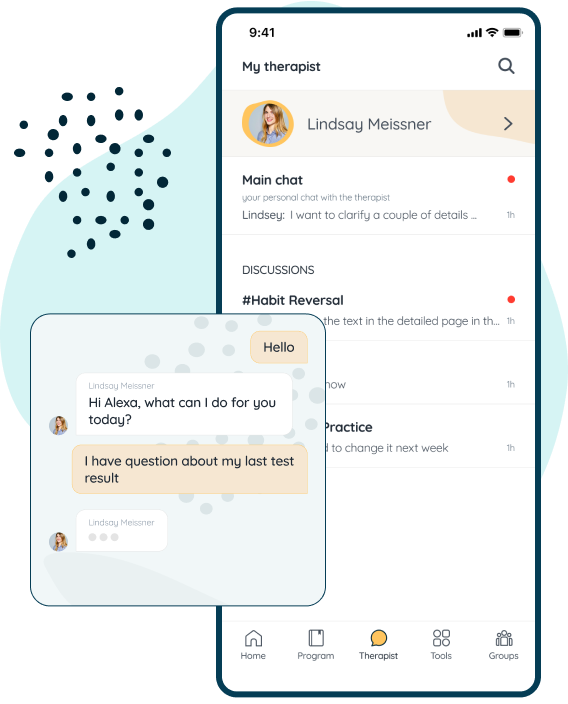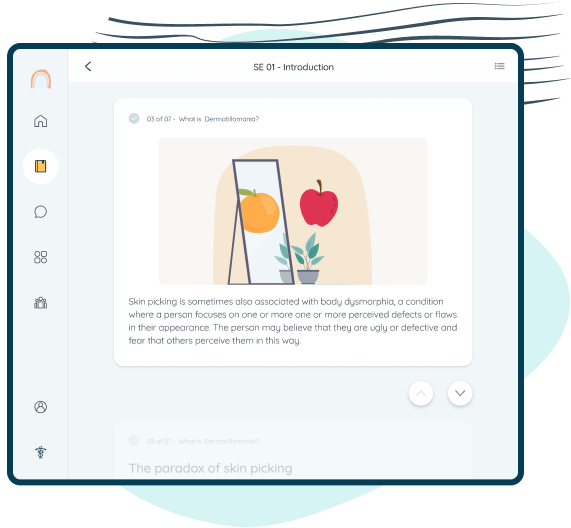 Evidence-based Therapy
That Works
Utilizing proven methods that target the thinking patterns and emotions behind problematic behavior, and generating lasting results.
Tools and Support at Your
Fingertips
Making progress daily with training modules, tools, self-monitoring apps, and unlimited messaging with the therapist.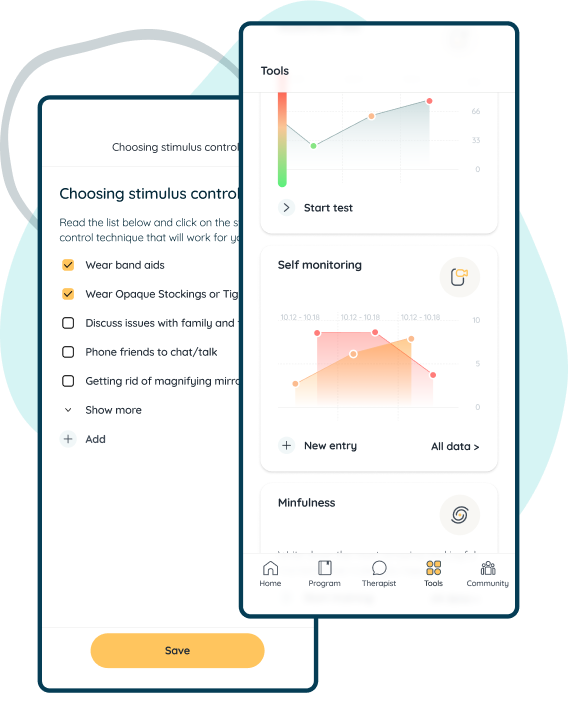 Client Journey
Freemium
Providing free resources and tools to the community, including psychoeducation, apps, webinars and support groups.
Paid subscription
Supports monthly subscriptions and subscription plan management.
Therapist match
Matching each client with a therapist that best fits their needs and preferences.
Bespoke program
Your case is unique, and your treatment should be too. Your therapist will build a bespoke program to fit your specific case.
Maintenance mode
People suffering from chronic disorders can self-maintain their condition, or work with their assigned therapist upon need.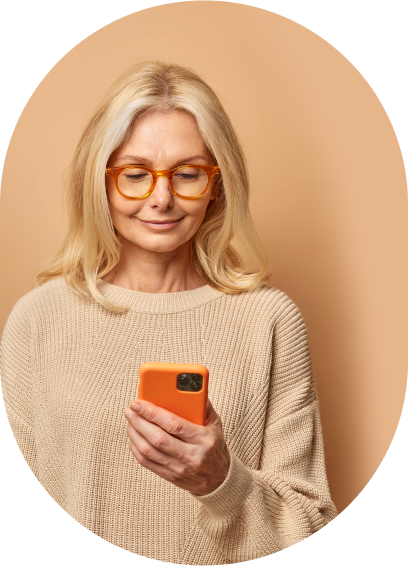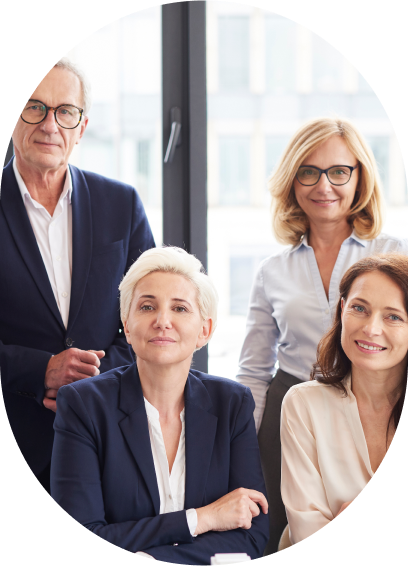 Our Therapist Network
Licensed and Accredited
Our therapists participate in specialized training to ensure the highest standards of care.
Expert Care
Expert clinicians oversee all programs to make sure you have the tools you need to better manage your condition.
Empowering clinicians through technology
Digital therapeutics builder
Create state of the art digital interventions without writing a single line of code.
Provider network management
Manage intake, analyze and optimize provider utilization and performance.
Telehealth - reimagined
Video and asynchronous models. Proprietary telehealth system for focused communication which optimizes provider time utilization.
B2B Integration-ready
Ready to be integrated with your organization; Onboard your team and define your client facing brands and products.
State of the art provider dashboard
Clinician tools include monitoring client's progress and outcomes, managing time utilization, task prioritization, notes and more.
Privacy and security at the core
Designed with privacy and security at the core; built on a tech stack that supports complex privacy regulations.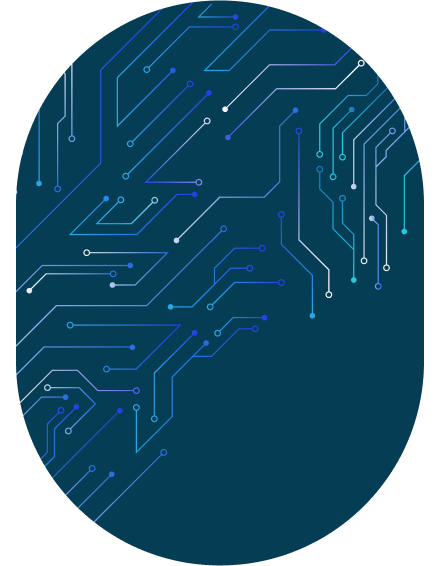 By-the-numbers example:
online program for excoriation disorder
Average reduction in
symptoms
Symptom severity measured via the online test, taken every session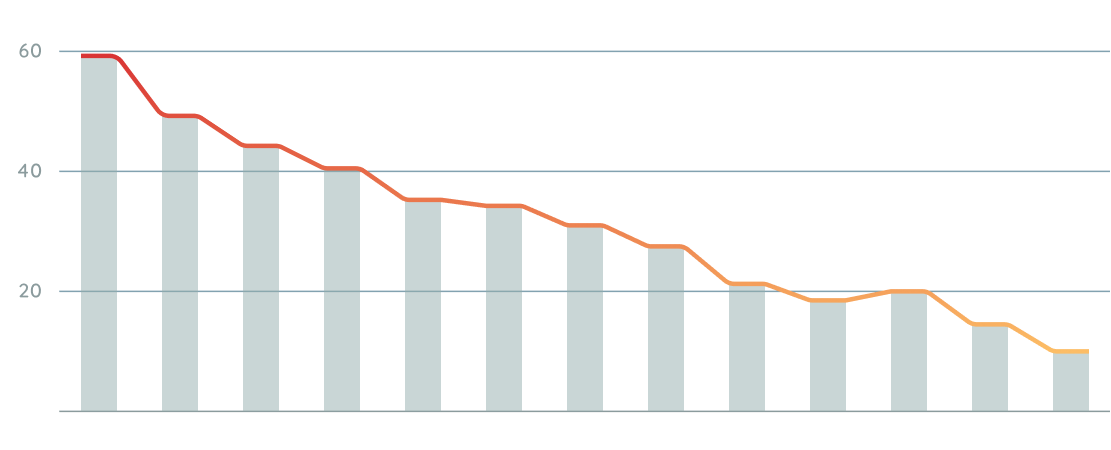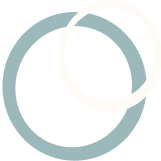 within 3 weeks
over
80%
of clients experience reduction in symptoms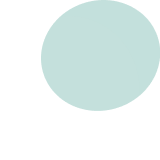 within 3 months
clients experience substantial reduction in symptoms of
46%
on average (compared to symptom severity at the beginning of the program)

91%
of clients who finish the main modules of the program would recommend it to others